Welcome to IBN: Your partner for projects that work.
Take a look at what we do – and what we can do for you.

An overview of projects we accomplished for different branches of industry
Let's get in touch and talk about your plans and objectives

INDUSTRIE-BAU NORD AG: competence and experience for every step of the way
IBN can cater for prophases of your project:
Concept development: on-site assessment, planning, feasibility studies
Partnership: local and foreign Performance
Engineering: basic and detailed engineering for machinery and civil works
More than 300 projects executed, 50 years experience and reference of IBN in keysolutions for profitable agro centres within the framework of food security.
Welcome to IBN: Your partner for projects that work.
Activities: Concept, Feasibility Studies, Engineering, Technologie Transfer, Projekt Realisation, Training, Management Technology , Marketing Technology, Spare Part Organisation, Integrated Organisation of Production Food Recepies, Feed Recepies, Digital Productiontechnologies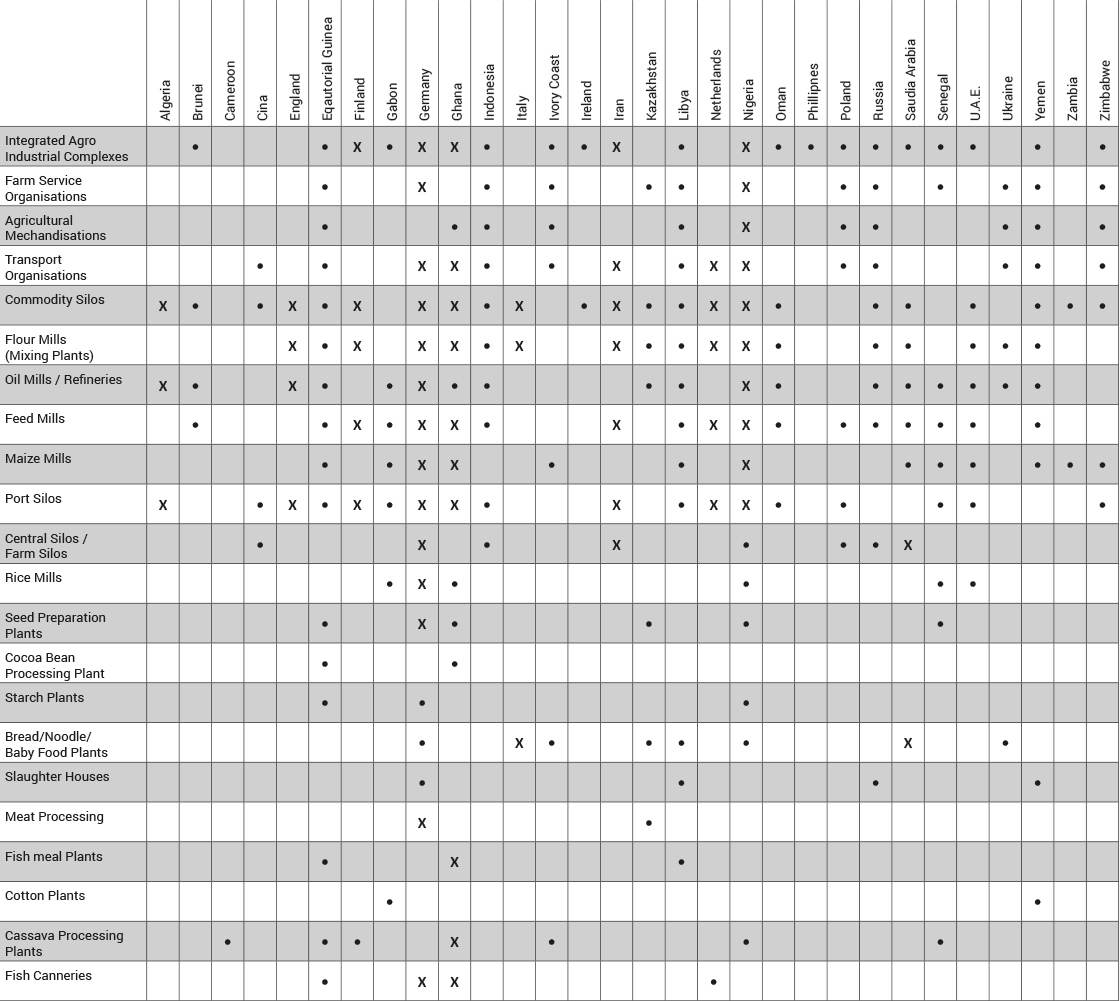 Successful technologies applied for the implementation of agro centres, developed by IBN
An AGRO CENTER contains a multiplicity of different silo bins for various kinds of bulk commodities. A large number of bins need to be furnished with outflow technology to ensure trouble-free release of heavy flowing materials. Accordingly, production costs are reduced and an automatically controlled production process is ensured.
The storage bins have to be constructed so that the stored goods flow through the bins without blending and with minimum abrasion
A number of sensitive bulk commodities, such as flour, sugar, and soya bean meal, require bin in- sulation that protects against condensation and high temperatures
Particular bins require a special coating for hygienic storage and rest-free discharge
The IBN Integration System for the production of various staple food items ensures optimum profi- tability due to usage of all by-products
The integrated production system provides high quality end-products, which further ensures the profitability of the entire complex
One example of this is the optimized feed for- mulation, the possible range of production of various kinds of flour or vegetable oils, i.e. the general flexibility in the production of staple food items, on the basis of which a down-stream in- dustry can developed
Further advantages of the integrated production result from these operations, such as:


continuous maintenance planning,
optimized spare part supply,
optimized logistics (" just-in-time supplies ")
minimized staff requirements
Nordstrasse 5 6300 Zug Switzerland